Working Woman Chioma shares her hustle, dream collabs, & more with 1.11ven!
Who is Chioma? What do you want to be known for in this lifetime?
Chioma: I am a mother of a beautiful 4 year old daughter. I am a full time film student. I am a freelance photographer, videographer and I have my own clothing line called 'working woman'. But strip away all those titles, I am a simple, regular gal ! In this lifetime I want to known for helping people and making a difference in people's lives. I want to be known as a woman who overcame many obstacles and fulfilled her dreams and lived her life to the fullest. But most importantly I want to be known as a child of God who carried out her purpose her on earth.
Who/What inspired you to get into photography?
Chioma: My best friend is actually a photographer and back then I was solely doing video so we were like a little creative duo. I swore up and down that photography wasn't my thing lol. I learned that it wasn't that photography wasn't my thing. It was that I did like the photography style that I was surrounded with. I kind of stumbled into photography accidentally. I had a lot of clients start asking me if I did photos as well as video and I would always tell them no. Finally one day I told myself I just need to practice. I asked my friend if she could model for me and literally I've been hooked ever since.
I see that you do a lot of natural shoots and opt out of retouching your images, what was your reasoning behind this decision?
Chioma: I didn't want to be just a nother photographer. I wanted to inspire people as well. I noticed something that was lacking in the social media, beauty, entertainment industry is what real people look like. Personally, I want to be able to relate to models I see on the TV or online. I would like to know I'm not the only person in the world with flaws. I don't want to always see an airbrushed face and body. I want the models I work with to feel beautiful as they are!! There's def. nothing wrong with makeup! I love it!! I just think the world needs to see what we really look like and know that it is just as beautiful.
What inspired your brand Working Woman?
Chioma: I'm always working and people are always telling me I'm always working so one day I just decided to come up with this saying "working woman". I think that it is just a simple statement that holds so much meaning. The number of female entrepreneurs and creatives is on the rise and I AM HERE FOR IT! Starting out I didn't know the direction that I quite wanted to go in. Two months later I finally figured it out lol. The everyday woman inspires me so I want this brand to be for the everyday woman to wear during her daily activities. I'm really excited to see where I go with my brand!!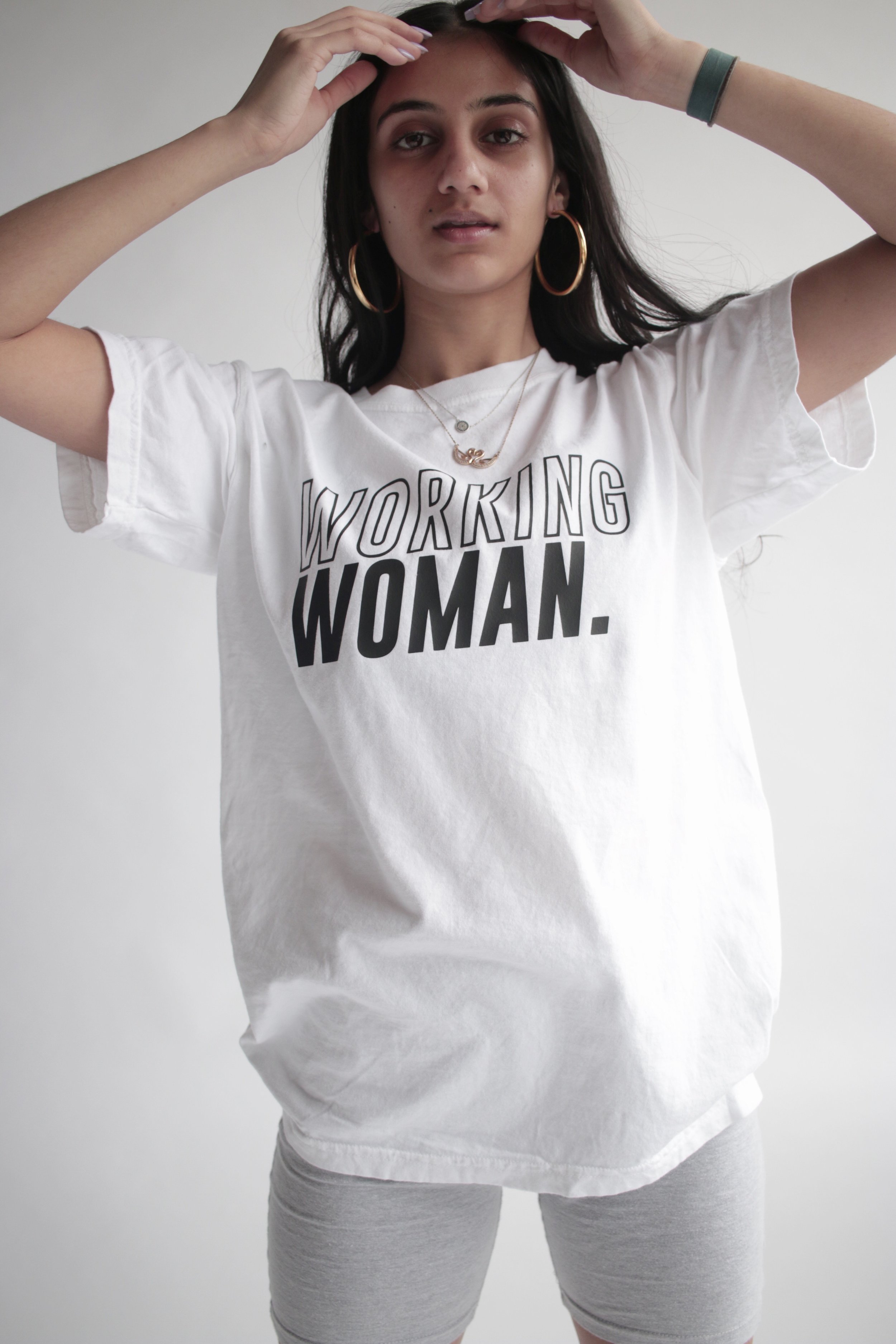 Who are some of the brands and/or creatives/entrepreneurs that you would love to collab with in the near future? *let's speak it into existence*
Chioma: GLOSSIER!! Milk makeup , flesh beauty, Fenty beauty, Base Butter, Seventeen magazine, Nike, New Balance, Hara the Label and so many more! Some entrepreneurs I would love to work with are @emilyoberg , @emilywweiss , @elaineweleroth , @traceellisross , @yarashahidi
Describe your style in three words!
Chioma: comfortable, 90s/vintage , minimal
Favorite women of color to follow on Instagram?
Chioma: @yarashahidi , @valencia_valencia, @sophia_roe , @latonyayvette
Who is Chioma listening to? What's your favorite album out right now?
Chioma: Right now I've actually been into podcasts. I really love Gals on the Go, Gettin' Grown and Whoa That's Good!
What are your self-care rituals/tips? How do you stay looking so bomb sis!?
Chioma: I don't take a lot of time for myself to be honest ...but I love doing face masks. I feel like a goddess once I take it off and my skin is all smooth! I also love doing my makeup. This is funny because it's the complete opposite of my brand. Doing my makeup is so therapeutic for me. It's really the one time that I am completely alone and I can just get ready without rushing. I love watching YouTube videos or Netflix while I do my makeup.
What was your 1.11ven moment /a time you realized you could do anything you set out to do?
Chioma: I can't remember a defining moment but I've always been a go getter. I've never been afraid to try new things. I've never been afraid to fail. I know it's all part of the process. I will say having my daughter gave me more a drive to want to work harder!
If you could give one piece of advice to women out there, what would it be?
Chioma: Be you sis and go after what YOU WANT but be supportive of other entrepreneurs and friends along the way!! Seriously women are out here killing the game and I love it. One thing I would love to see is less competition and more support. We can all thrive and be successful!
What are some upcoming projects that we can expect to see you flourish in?
Chioma: Currently I am working on my new brand called Working Woman. I def want to see my brand grow and reach a wide range of women. I am also working on a few commercial/ad campaigns that I'm excited about!! I'm graduating film school soon so I'm trying to secure a job sis!! lol. My first short film "black-ity" is in the post production process and we should expect to see that soon as well as a commercial that was shot last summer!